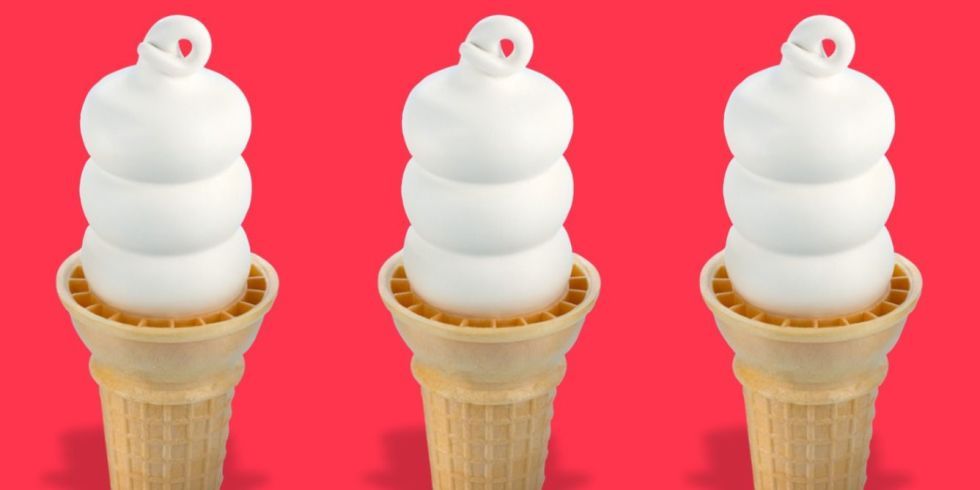 Ice cream has been around and enjoyed for centuries, but the soft-serve concept was not developed until 1938 by Iowa-born John Fremont McCullough and his son Alex. Together they convinced a friend, Sherb Noble, to supply the innovative product in his ice cream shop in Kankakee, Illinois, a small town south of Chicago. On the first day of sales, to everyone's surprise, Noble dished out over 1,600 portions of the new dessert within two hours. Recognizing that they were onto something big, Noble and the McCulloughs went on to open the first Dairy Queen store two decades later in Joliet, Illinois, putting Mr. Noble at the helm (who better) which opened for business on June 22, perfect timing for its long, hot summer.
For years, Dairy Queens were and are a fixture of social life in small towns of the Midwest and South and by the 70s, keeping up with the times (and the competition), most DQs added quickly food, such as hot dogs, hamburgers and fries, referring to their menu items as"Brazier." Although a few stores are only open in the summer, most remain open year-round. After all, why eat frozen treats just seasonally unless you live in North Dakota? The biggest store is located in Bloomington, IL, home of a state university, Busiest honors go to Prince Edward Island, Canada (go figure). In 2014, Dairy Queen recorded over 6,400 stores in over 25 countries (75 percent of which are in the U.S.). For decades, the old adage boasted every Texas town had a DQ. While no longer literally true as small-town America dwindles, the largest concentration remains in the Lone Star State.
All DQs now provide the Orange Julius drink, a brand that they obtained in 1987, and many shops are available in food courts and shopping malls nationwide. DQ really has two fan clubs: Blizzard and Orange Julius. Blizzard fans, more than 4 million strong, take their choices seriously, with an assortment of components and mix-ins available. DQ also supplies specialty ice cream cakes, along with their traditional selection of soft-serve treats, cone dippings and toppings.
Across the country, many single-unit mom and pop stands notice and opened up on Memorial Day catering to the regional kids, with walk-up stands, often calling themselves"frozen custard." No one cared what the name was, it meant vanilla and chocolate creamy cones and cups, possibly a few picnic tables to linger at, and an after-dinner treat in walking distance of home. Simple names such as Al's, Bert's or Tastee Treat started to pop up on busy corners and kids rode their bicycles eagerly anticipating what awaited them, with a dime or a quarter stashed in their pocket. Rarely did these stands provide more than the two basic tastes, but if one was lucky, there may be a strawberry taste too (oh, boy). (Author's note: her regional soft-serve stand featured green mint, which was over the top, especially with hot fudge.)
Minor competitors like Tastee-Freez and Fosters Freeze both started in California in the 1950s and have less than 50 places each but continue to thrive with a cadre of loyal clients.
So who's up for a few soft-serve? Any time of year it hits the spot. If you don't have any stores near you, maybe a frozen yogurt, but it won't be the same. Check your local shopping mall and you might luck out. And do not worry: mom was incorrect, it won't spoil your dinner.